Regarder des films gratuit en Streaming et sans téléchargement
Découvrez une sélection de films, dessins annimé à regarder via Megavideo en streaming gratuit.
Posté par Stream team under Drame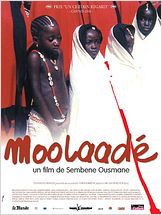 Info Film: Date de sortie 9 mars 2005 (1h 57min) Réalisé par Ousmane Sembene Avec Fatoumata Coulibaly, Maïmouna Hélène Diarra, Salimata Traoré plus Genre Drame Nationalité Français , marocain , camerounais , tunisien , sénégalais , burkinabé
Synopsis: Dans un village sénégalais, Collé Ardo n'accepte pas que son unique fille soit excisée, ce rite de purification qu'elle juge barbare. La nouvelle se répand dans le pays, et quatre fillettes réclament à Collé Ardo le droit d'asile, le Moolaadé. Dans le village, les tenants de la tradition et de la modernité s'affrontent.
Related posts:
Leave a Reply
You must be logged in to post a comment.
Détails du Film
FilmSream.In sur facebook